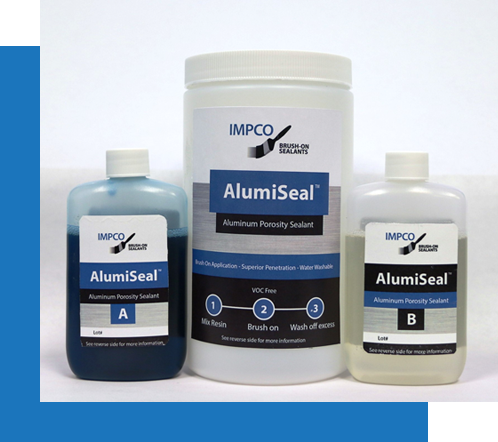 About IMPCO
Whether you are an engineer, manufacturer, or DIY'er, we have a Brush-On Sealant that will work for you. Our line of sealants will repair porosity in castings, weldments, brazings, and other ferrous parts.
IMPCO, Inc. is owned by Godfrey & Wing. Godfrey & Wing is the largest vacuum impregnation equipment and sealant manufacturer in the world.
VIEW PRODUCTS

Mix Resin
Mix two components in container supplied with kit.

Brush On Sealant
Brush on porous surfaces, and cures in the absence of air.

Wash Off
Using water, simply wash off any uncured sealant from the part's surface.
How to Mix Resin
Mix A and B components in container supplied with kit in 1:1 ratio / 50-50% ratio

Safe and Water Washable
No equipment and solvents are needed to remove the sealant-simply apply and remove uncured excess sealant with water.
Save Repair Time & Costs
Using IMPCO's Brush-On Sealants is one of the least expensive ways to repair porosity.
Minimize Scrap Costs
Scrap and rework costs can add up quickly. IMPCO's Brush-On Sealants allow you to salvage potentially faulty parts.
No Outside Processing Costs
No need to send the part out and wait for it to be sealed. You can apply the sealant in a short amount of time.
No Expensive Equipment
Application is as simple as just a few brush strokes.
No VOCs. 100% Solids
IMPCO's Brush-On sealants do not release any VOCs. No VOCs means nothing will be emitted that will pollute or detract the air quality.
Not Sure if Brush-on's or impregnation is the right choice?